DEPARTMENT OF IMMUNOLOGY AND MOLECULAR MEDICINE
The Department of Immunology and Molecular Medicine was established in August 2020 Korea as a part of the Leading University Project for International Corporation and ODA (Official Development Assistance) funded by Ministry of Education, South Korea through collaboration with SungKyunKwan University, South Korea. The department is headed by Prof. Chandima Jeewandara and the staff consists of 2 Professors 1 Senior Lecturer, 2 Lecturers and 1 Project Coordinator. Currently, the department has 7 PhD students supervised under Prof Neelika Malavige and Prof Chandima Jeewandara.
Since its inception, the department has been undertaking various academic activities along with conducting several research in collaborations with many local and international institutes and organizations.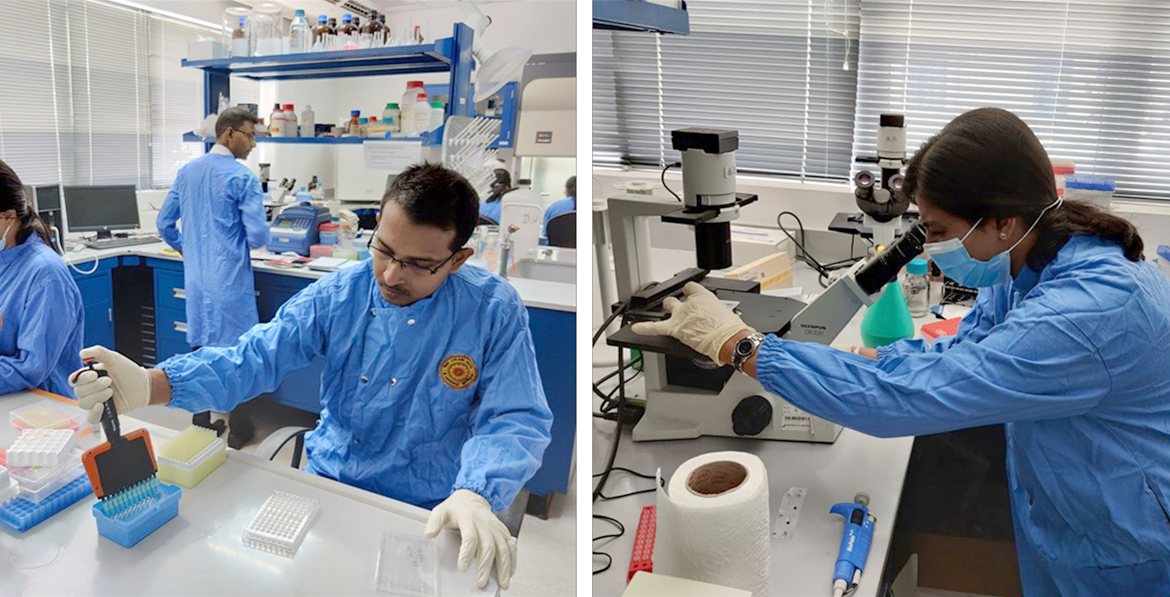 Participation in Undergraduate Training Programmes
Bachelor of Medicine and Bachelor of Surgery – Faculty of Medical Sciences
BSc in Medical Laboratory Sciences – Faculty of Allied Health Sciences
BSc in Nursing – Faculty of Allied Health Sciences
BSc in Pharmacology – Faculty of Allied Health Sciences
BSc (Hons) in Human Biology specialization in Immunology
BSc (Hons) in Human Biology degree programme is the newest addition to the undergraduate degrees conducted by the department. In addition to the contribution on certain modules during the first 3 years of the course, the department carries out the full 4th year for the students who take up the specialization in Immunology which includes an extensive research component along with the course work.
Participation in Postgraduate Training Programmes
MSc in Immunology
PhD/MPhil research degrees
MSc in Molecular Medicine conducted by the PGIM
MSc in Nutrition conducted by the PGIM
MD programs conducted by PGIM (eg: Family Medicine, Nutrition)
MSc in Immunology is started in 2023 as the first postgraduate course in Sri Lanka in this subject area that is conducted by a state medical faculty. This is a 2-year course holding 60 credit values with a research component and provides a comprehensive immunological lab training that will cover basic immune assays, flow cytometry, infectious disease, allergy, and immunological disease diagnostics and next generation sequencing. This course offers Sri Lankan students a great opportunity to master their knowledge and expertise in Immunology while having a great exposure to international collaborations.
Lectures, small group discussions and practical classes in the phase II of the MBBS curriculum
Lectures, tutorials, and practical classes in the Immunology Module of the B.Sc. (Medical Laboratory Sciences)
Supervision of MSc, MPhil, PhD, and MD research projects
Weekly student presentation at Departmental meetings
Journal clubs
Clinical teaching at the allergy clinic during the Family Medicine appointment
Seminars and workshops: laboratory techniques
Additionally, the department also plans to start several short courses as follows that will be open to individuals with different levels of knowledge and skills in the subjects.
Short course in Cell Culture
Short course in Molecular Diagnostics
Short course in Sequencing
Since late 2021, the department is conducting a 2 week training to Medical Laboratory Science Interns attached to the Ministry of Health. The first intake consisted of 183 trainees who had the opportunity to be trained in immunology and molecular diagnostic techniques including PCR and other cutting-edge technologies in groups of 10-20 at a time. 
In addition, the department provides short term training to professionals, undergraduates, and school students. Each training program has a customized plan to suit the needs and demands of the student/trainee group and would be of 3-6 weeks duration.
The department in collaboration with Allergy, Immunology and Cell Biology Unit (AICBU) is equipped with cutting-edge technology and state of the art laboratories.
Cell culture facilities
Realtime PCR: gene expression, dengue virus serotyping, viral diagnostics, COVID-19 diagnostics
Digital PCR
Flowcytometry
Confocal microscopy
Next Generation Sequencing
Allergy diagnosis
Component resolved allergy diagnosis
Cell sorting
ELISA: pathogen specific antigen detection, quantitative cytokine detection
Luminex: multiplex cytokine detection, antibody detection and pathway analysis
ELISpot: T cell functional assays
virus neutralization assays and virus propagation, antiviral assays
Moreover, the department is working as pioneers in SARS-CoV2 related researches and has accomplished remarkably and would continue to do so in the following,
Whole genomic sequencing of the SARS-CoV2 strains in Sri Lanka
Antibody responses to SARS-CoV2
Identifying biomarkers and inflammatory mediators that lead to severe disease.
Sero surveillance study in the community to determine the extent of silent infection.
T cell responses to the SARS-CoV2
Sero-prevalence study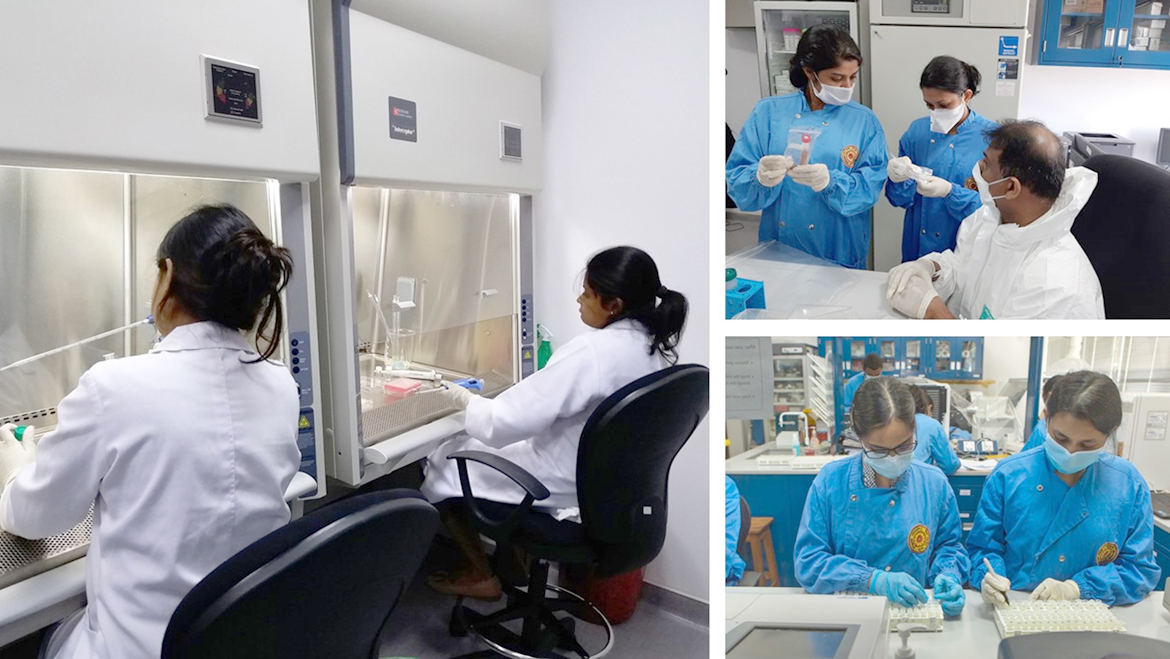 Services to the Community
With the AICBU, the department made a substantial contribution to the national need of fighting against the corona virus by performing more than 300,000 PCR diagnostic tests (in 2021) for various government establishments including the Ministry of Health. Furthermore, as the major sequencing facility in Sri Lanka, the department and the unit were also the pioneers in sequencing and viral strain identification during each outbreak of COVID-19 in the country. In addition, many other research projects have been conducted related to areas concerning SARS-CoV-2 virus, its vaccines and antibody responses and dengue viral infections.
In addition, we conduct an allergy clinic twice a week in the faculty of Medical Sciences premises which contributes to the national need in the healthcare sector immensely as the only government facility for allergy related diagnosis and treatment and patients all over the country are being referred to us on regular basis.
The department if established as a part of the Leading University Project for International Cooperation funded by the Ministry of Education, South Korea through SungKyunKwan University. As a community service in the project, a Sinhala translation of the book "Your Amazing Immune System" was published and will be distributed among all middle and high schools in Sri Lanka for the students to use it as a supplementary reading.
Leading University Project for International Cooperation – SungKyunKwan University, Republic of Korea
University of Oxford – Prof Graham Ogg, MRC Human Immunology Unit, MRC Weatherall Institute of Molecular Medicine
Identifying SARS- CoV2 Protective Immune Responses and disease pathogenesis – Ministry of Health
Investigating the seroprevalence of SARS-CoV-2 infections and dengue infections in Sri Lankan children – World Health Organization
Monitored Implementation of SARS- CoV2 antigen detection rapid diagnostic test in Sri Lanka – World Health Organization
Asian-American Centres for Arbovirus Research and Enhanced Surveillance (A2CARES) community study – National Institute of Health, USA
New Tools for Vector Control in Aedes-borne viruses – RemediumOne