DIPLOMA COURSE IN COUNSELLING
This course aims to provide a good foundation in Counselling and knowledge on related theories in the area of mental health & abnormal psychology, sociology and psychology and their application to counselling. The practical aspect of the course includes basic counselling skills and personal development.
The course is conducted over a year during weekends at the Faculty of Medical Sciences, University of Sri Jayewardenepura. Clinical training is provided at the University Psychiatry Unit at Teaching Hospital, Kalubowila. Students who successfully complete both practical and theory components are awarded the diploma.
Upon completion of this course you are eligible to function as an independent counsellor.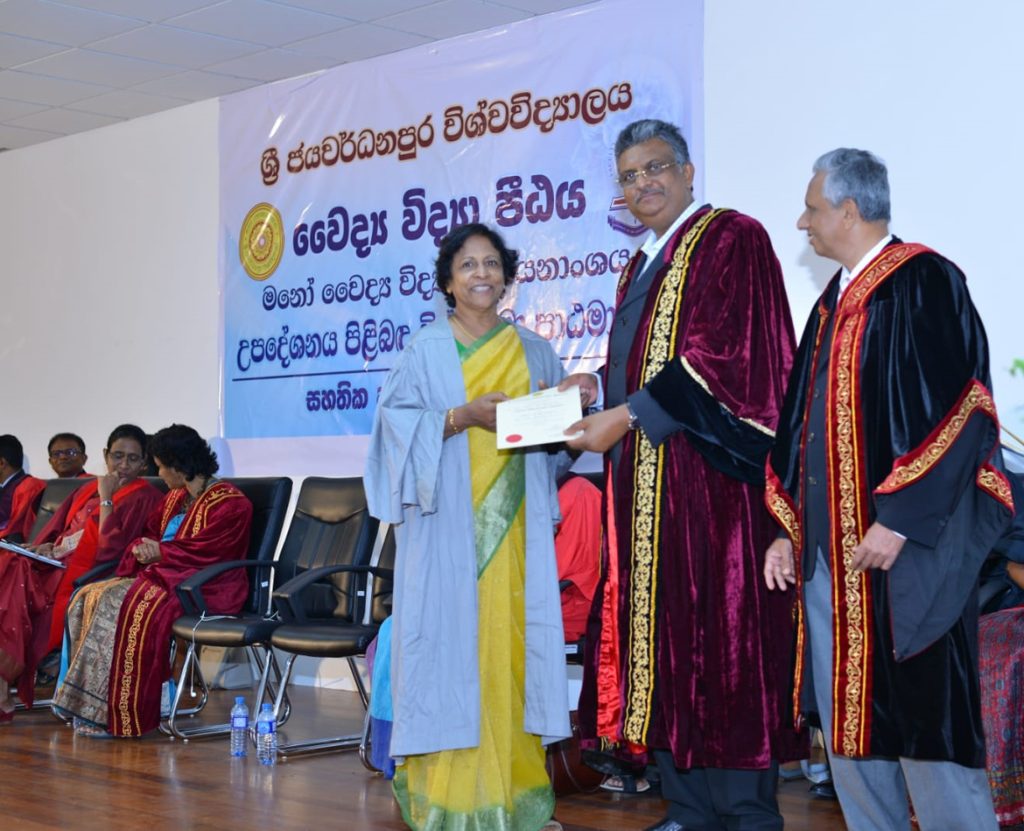 One Academic year
Lectures and practical classes are to be conducted on weekends (Lectures are mainly physical. Few of them will be held via Zoom depending on requirements)
Sinhala and English in alternative years
2023/2024 – Sinhala Medium
2024/2025 – English Medium
120,000/-
This payment has to be made in full at the time of registration
Age between 22 – 55 years
Candidate should pass G.C.E (A/L) with 3 passes in any subject stream.
Additional Qualifications
Degree from a recognized University (Recognized by the University Grant Commission)
Certificate of Nursing or Teacher Training
At the end of the training programme a trainee should be able to;
Function as a competent counselor who is capable of counselling the service seeker with compassion and highest ethical standards.
Identify those with special needs and refer them to appropriate agencies.
At the end of the course a trainee should be able to;
Describe the concepts of counselling
Describe the basic concepts of sociology relevant to counselling
Describe the basic concepts of psychology relevant to counselling
Describe the concepts of health (mental, physical and social)
Describe human behavior and deviations from the norm
Demonstrate appropriate communication skills
Identify the psychological needs of service users and provide appropriate support
Identify clients with serious mental illnesses and refer to relevant mental health services
Identify existing support services in Sri Lanka and refer as needed
Identify the existing support services in Sri Lanka
Identify and refer to appropriate support services when necessary
Function with highest ethical standards
Consist of 19 modules, the course is delivered in a variety of modes including lectures, group discussions and practical exercises and role plays in a learning atmosphere. Students will be awarded 30 credits for successful completion of each module.
| Modules | |
| --- | --- |
| | Introduction to Psychology and Counselling |
| | |
| | |
| | Developmental Psychology and Life Cycle |
| | |
| | Elements of Anatomy, Physiology and Bio-chemistry |
| | Basic concepts of Sociology relevant to counselling |
| | Mental Health and Abnormal Psychology |
| | Communication and Counselling Skills Development |
| | Problem Solving Counselling |
| | Special Applications of Counselling |
| | Knowledge of support services in Sri Lanka to mentally ill and socially disabled |
| | |
| | |
| | |
| | Clinical attachment programme |
| | |
| | |
| | |
Information about the new recruitments will be advertised in this web page and in the weekend newspapers.
Applications for the 2023/2024 batch – closed
Applications for the 2024/2025 batch – will be announced mid-next year.