The Department of Anatomy was established at the time of the inauguration of the Faculty of Medical Sciences as one of its very first departments in 1993. Since then, it has molded generations of medical undergraduates to lay their foundations in basic sciences with regard to macroscopic and microscopic Anatomy to become competent clinicians and researchers.
The Department currently comprises of chair professor of Anatomy, professors in Anatomy, senior lecturers, and probationary lecturers.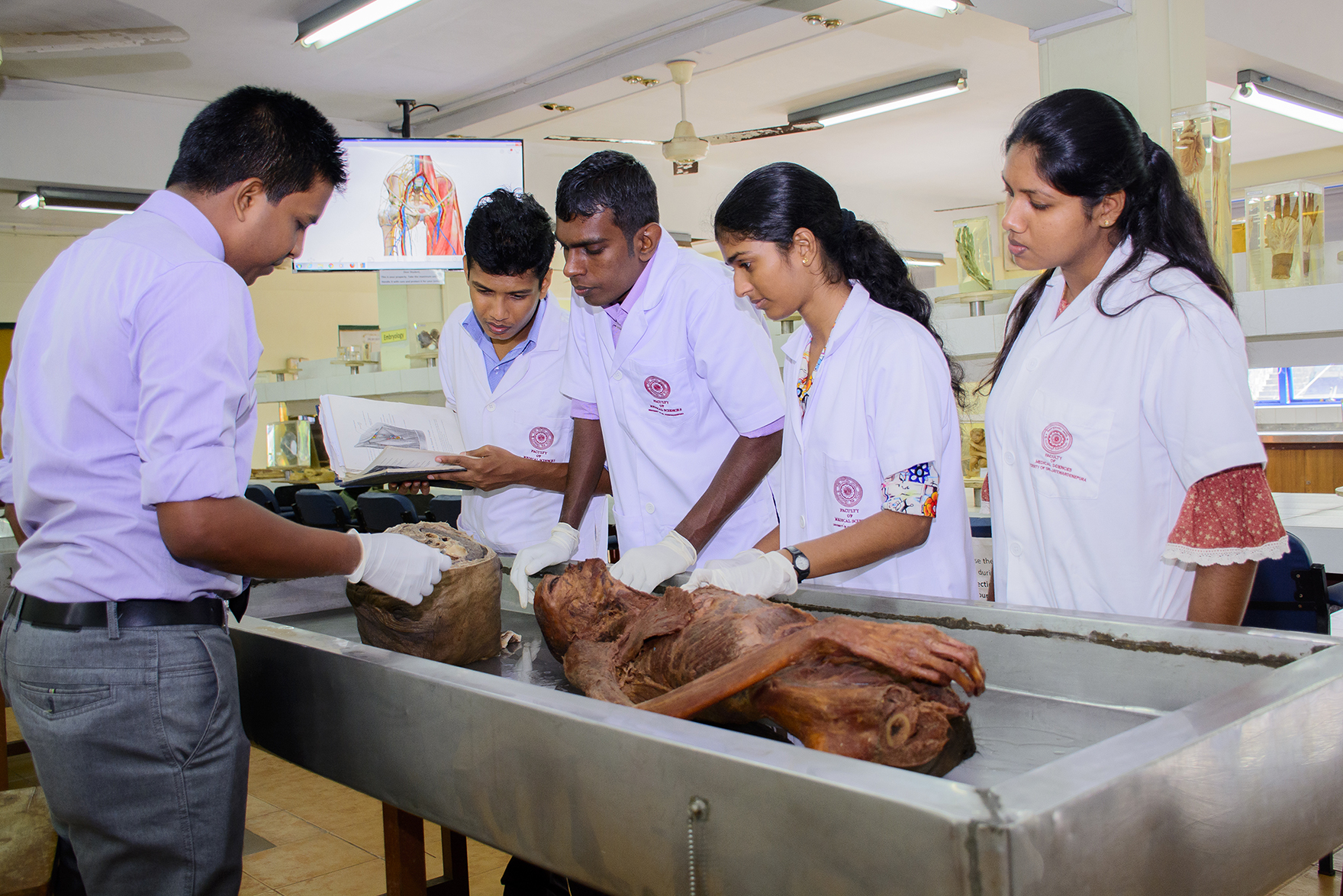 Participation in Undergraduate Training Programmes
We take part in the teaching-learning activities of the following degree programmes.
MBBS
Bachelor of Dental science
B.Sc. (Human Biology) – General and Special
B.Sc. in Sports Science
B.Sc. in Nursing
B.Sc. in Pharmacy
B.Sc. in Medical Laboratory Sciences
B.Sc. in Optometry
Participation in Postgraduate Training Programmes
We guide postgraduate students to complete MPhil /PhD (Anatomy) by research
We involve in teaching and learning activities of Diploma in Anatomy program conducted by the Postgraduate Institute of Medicine, Colombo.
We also conduct workshops for postgraduate trainees in several fields of specialties such as Surgery, Orthopedics, Pathology, Otolaryngology etc. The workshops are based on exploring human Anatomy and hands on cadaver dissections.
A variety of teaching-learning activities are being carried out for the students of the above-mentioned degree programmes. Lectures, problem-based learning sessions and small group discussions, question and answer sessions, Model room and X-ray room activities are some of them. In addition to that, Histology practical sessions and cadaver dissection sessions conducted by the department give the opportunity for the students to obtain hands-on experience.
The department spans the ground, first, second and third floors of the Anatomy Building and harbours the following facilities:
Two cadaver dissection halls equipped with LED screens for audio-visual assisted learning facilities.
Body preservation areas with coolers and tanks.
State of the art Histology Laboratory – fully equipped with over 50 microscopes, LED screens with internet facility
Model Room – comprising a collection of anatomy models and carefully selected X-ray, CT and MRI films which are available for student learning activities.
Research Laboratory.
Tutorial room
Auditorium – fully equipped with state-of-art sound systems, multimedia with a seating capacity of 350.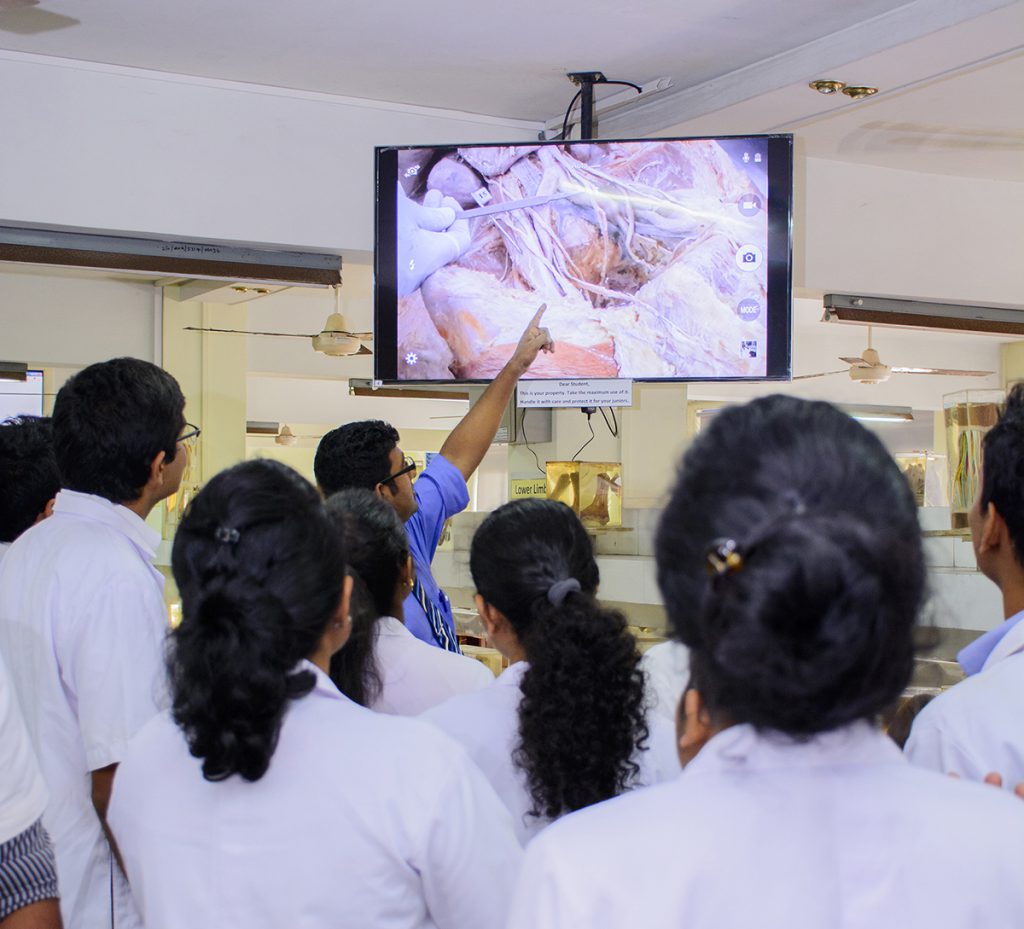 Services to the Community
We contribute to educational programs, exhibitions, and awareness programs organized by undergraduates, other faculties, universities, and organizations, by way of specimens and facilitators in order to educate the public. Furthermore, educational sessions are being organized for school students to promote their interests in biological sciences. Special education programs are conducted for the paramedic community in order to strengthen their skills thereby uplifting pre-hospital care in the country
The department acts as a 'cadaver receiving hub' where the public can either register to donate their bodies after death or donate the cadavers of their family members after demise, to be used by the medical students for their dissections and other learning purposes. The registered individuals who have consented to donate their bodies are issued a registration number and a certificate acknowledging their consent. A Pirith ceremony is held annually at the department premises to commemorate those who have donated their bodies, with the invitation of their families and the participation of the faculty staff, and students
| | | | |
| --- | --- | --- | --- |
| Name of Grant | Purpose | Start Year | End Year |
| SJWRI research grants by NZ Dental Research Foundation and Ministry of Health oral Health funding | Expression of Vascular Endothelial Growth Factor and associated pathways in oral squamous cell carcinoma | 2018 | 2020 |
| University Research grant | Quantification of Vascular Endothelial Growth Factor (VEGF) and Human Papiloma virus levels in oral cancer patients attending the National Cancer Institute Maharagama – Sri Lanka Sri Lanka (ASP/ 01/RE/MED/2017/62) | 2017 | 2020 |
| University Research grant | Expression of Vascular Endothelial Growth Factor and study of etiological factors in oral cancer patients attending National Cancer Institute Maharagama- Sri Lanka (ASP/ 01/RE/MED/2016/46) | 2016 | 2019 |
| University Research Grants – Center for Cancer | Research Expression of Vascular Endothelial Growth Factor and study of etiological factors in oral cancer patients attending National Cancer Institute Maharagama- Sri Lanka (Number 003/2017) | 2017 | 2018 |
| University Grants Commission Research Grant | Expression of Vascular Endothelial Growth Factor and study of etiological factors in oral cancer patients attending National Cancer Institute 19 Maharagama- Sri Lanka | 2017 | 2020 |
| National Science Foundation | An anatomical study of human skeletal remains from the excavation site in Bellanbadipalassa in Sabaragamuwa province of Sri Lanka | 2006 | 2008 |
| National Science Foundation | Incidence of Anitsperm Antibodies (ASA) and its association to sub fertility in couples undergoing Assisted Reproductive Technologies at a selected centre | 2007 | 2008 |
| National Science Foundation | Study of genetic polymorphism in the pathogenesis of Alzheimer's disease in Sri Lankan population with reference to presenilin 1 mutation & Apo E | 2006 | 2009 |
| IRQUE | Micro array gene expression and cortical gray matter changes in treatment – Schizophrenia patients in Sri Lanka | 2007 | 2009 |