DEPARTMENT OF FORENSIC MEDICINE
The Department of Forensic Medicine was established in 1996.
An extension of the department is run at the office of the Judicial Medical Officer (JMO) of the Colombo South Teaching Hospital.
Forensic medicine, legal medicine or medical jurisprudence can be defined as a sub-specialty of medicine where medical knowledge, attitudes and the skills are used in the execution of justice.
Forensic medicine can broadly be divided into two major branches – Clinical Forensic Medicine and Forensic Pathology. The former deals with medico-legal issues pertaining to the living in a variety of scenarios such as in traffic accidents, sexual offences, domestic violence, child abuse, use of liquor and illicit drugs, battering in custody, human rights violations, assaults and international war crimes. The latter deals with issues revolving around death. In addition to the above two divisions there are a number of other allied fields such as toxicology, odontology, psychiatry, law, anthropology, entomology, forensic science etc., whose knowledge had been imparted to forensic medicine so as to achieve its practical targets.
Sri Lanka is one of the few countries where the same medical practitioner carries out medico-legal duties both in Clinical Forensic Medicine as well as in Forensic Pathology. Furthermore it is also one of the few countries in the world where the bulk of medico-legal work is carried out by the non-specialist medical officer. This emphasizes the importance of Forensic Medicine in the under-graduate curriculum as well as the responsibility vested upon the shoulders of the University Forensic Medicine departments in producing graduates with the expected level of competency in carrying out basic medico-legal work independently.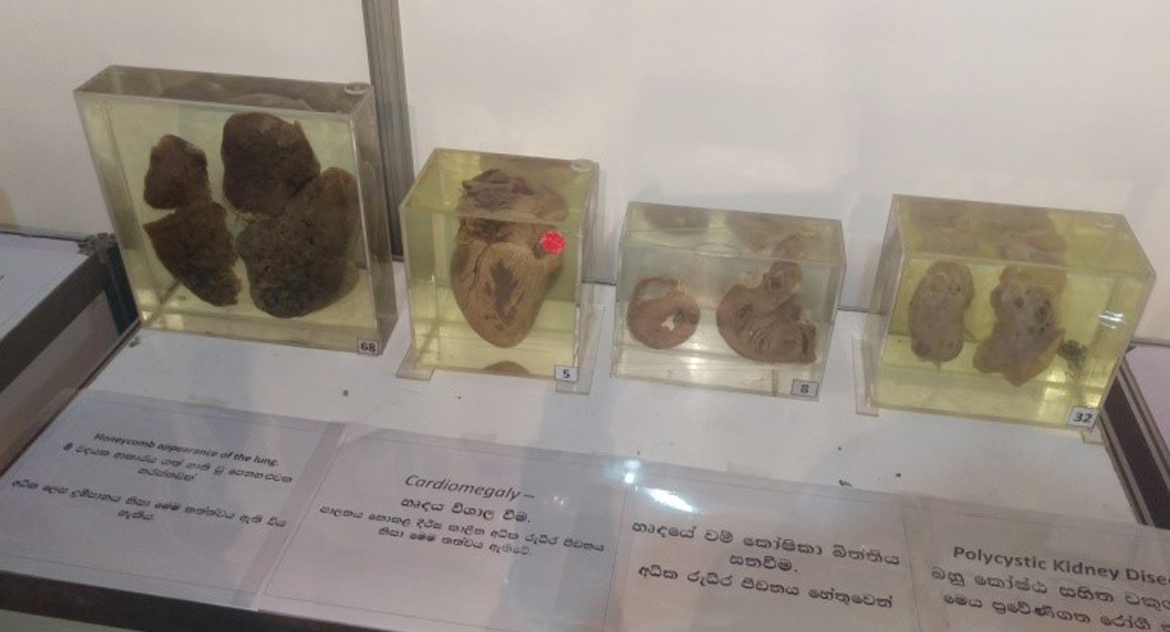 Participation in Undergraduate Training Programmes
Participation in Postgraduate Training Programmes
The Department of Forensic Medicine is a recognized training centre for the following postgraduate programmes conducted by the Post Graduate Institute of Medicine (PGIM), University of Colombo.
Diploma in Legal Medicine (DLM)
Doctor of Medicine (MD) (Forensic Medicine)
Lectures and tutorials are conducted regularly by the academic staff members for the MBBS degree programme. In addition, the staff conducts autopsy teaching sessions at the Colombo South Teaching Hospital.
The department is situated on the 3rd floor of the library building. It comprises a museum that houses a selection of macroscopic specimens and photographs that are used for teaching purposes. Also located within the department is a laboratory with facilities for autopsy tissue processing and histology slide preparation.
Services to the Community
Medico legal examination of patients at Colombo South Teaching Hospital and Sri Jayewardenepura General Hospital.
Post mortem examinations.
Appearance as expert witnesses for criminal and civil litigations in high and magistrate courts.
Providing assistance to the police and judicial departments by conducting scene visits.