Glycaemic Index
The Glycaemic Index (GI) categorizes starchy foods according to their potential to raise the blood glucose levels.
Blood glucose levels fluctuate following ingestion of foods containing carbohydrates.
GI measures the effects of carbohydrates on blood glucose levels by serving either a 50 g or a 25 g available carbohydrate portion (which may or may not be the normal serving size).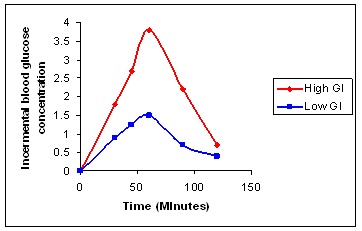 GI of a test food is calculated with reference to a standard
GI = IAUC of test food x 100
IAUC of standard
Standard used is either white bread or glucose and is given the value 100. Glycaemic response is influenced by the amount of the food we eat, type of the food, meal accompaniments and the processing/preparation method.
According to the GI values obtained with glucose as the standard, foods are categorized as low, medium or high GI foods.
| | | |
| --- | --- | --- |
| Low GI | Medium GI | High GI |
| 55 or less | 56-69 | 70 or above |
High GI foods - Carbohydrates are digested fast. Thus, glucose is released into the blood rapidly.
Low GI foods – Glucose is released slowly into blood stream.
Foods with low GI are reported to reduce the risk of diabetes and coronary heart disease and maintain a healthy body weight.
The high glycaemic responses resulting from high GI foods can be lowered by consuming high GI foods with low or medium GI foods. Ex. Bread or high GI rice with curries made with low GI foods.
Glycaemic Load
As GI is estimated with a standard amount of carbohydrate load which may or may not be the normal serving size, glycaemic load (GL) was introduced to apply the GI concept to the normal serving sizes of foods (edible portions).
Glycaemic load is calculated as
GL = [GI x amount of carbohydrate (grams) in the edible portion]
100
Thus, high GI/low carbohydrate diets or low GI/high carbohydrate diets can have the same GL.
According to the glycaemic load values foods can be categorized as given below (with reference to glucose):
| | | |
| --- | --- | --- |
| Low GL | Medium GL | High GL |
| 10 or less | 11-19 | 20 or more |